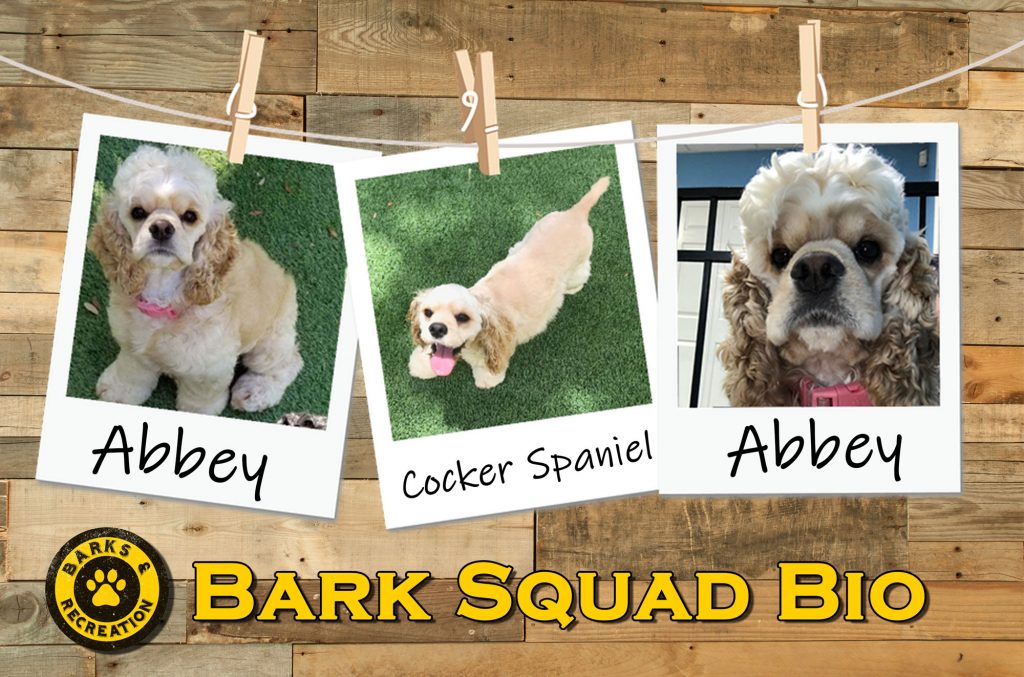 Get To Know Our Bark Squad Pups!
Meet Abbey! Cocker Spaniel
Our next Bark Squad Bio is on Abbey the Cocker Spaniel! She is related to our other Barks Squad pup Sam! Abbey is always ready to go, go, go! She loves chasing and playing with the other dogs in daycare. As soon as she wears her self out, she comes and sleeps right next to the staff. What a sweetie! Thank you, Abbey's parents, for bringing her to Barks and Recreation!
Q: Tell us Abbey's story! Where was she born and what made you fall in love with her?
A: Abbey was born in Polk City, FL. When we went to see the litter, Abbey kept licking Brandon's (family member) hands and face. We instantly fell in love with the blonde fur ball!
Q: How did you come up with her name?
A: Brandon named her – we thought she looked like an Abbey.
Q: What is Abbey's favorite thing to do?
A: Abbey loves the dog park and loves to be around people! She also loves doggie daycare!
Q: Is there a silly or funny story about Abbey that you would like to share?
A: Abbey was raised since 8 weeks with 2 cats. She tries to sit on the top our sofa (just like the cat's do)! She also likes cat food and to chew on socks!