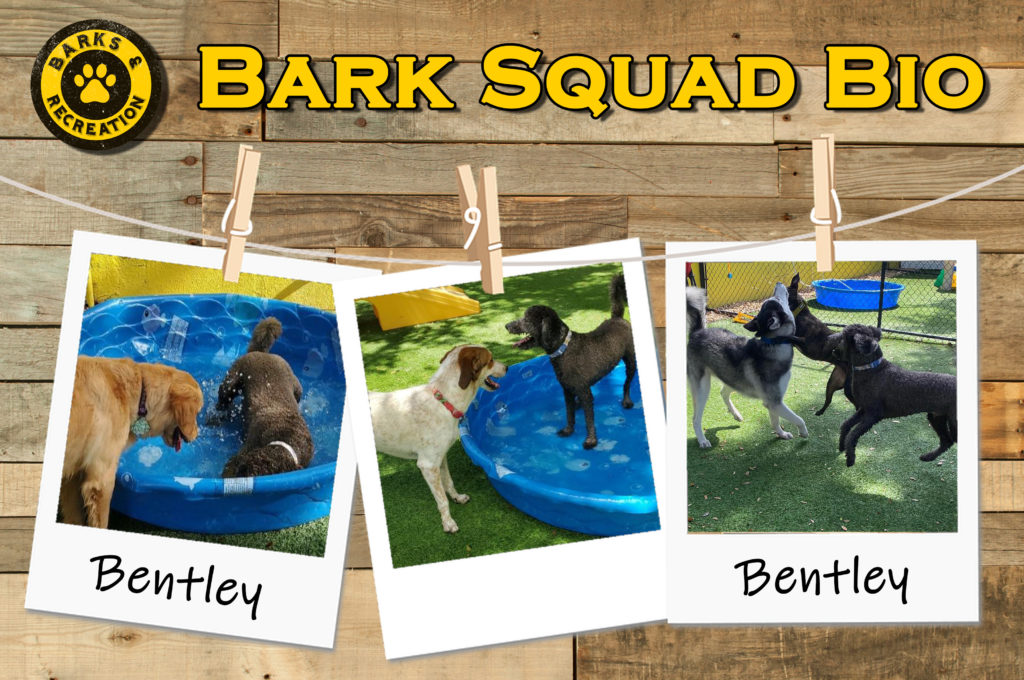 Get To Know Our Bark Squad Pups!
Meet Bentley! Goldendoodle

Introducing our next Bark Squad member: Bentley!
Bentley is a goldendoodle that has been coming to our daycare for a year and a half! He is a rowdy boy who loves to play and get wet in the pool! We are always so happy to see Bentley because we know we are in for a wild time! We are thrilled to have Bentley as a part of our bark squad, He is here with us most of the week and is a big part of our family here!
We asked Bentley's parents to answer some of our questions about him that everyone can read below. We're so glad to learn more about this sweet pup and very thankful that his parents continue to choose us to look after him. We hope to have Bentley around for many more years to come!
Q: Tell us Bentley's story! Where was he born and what made you fall in love with him?
A: Bentley was born in Hernando County, Florida at the home of a Goldendoodle Breeder. His photo made me fall in love with him immediately; who wouldn't!? The breeder put his photo on the internet and when I saw it, I was hooked! I lost my beautiful German Shepard 4 months prior, and knew I really could not handle another big dog. Lots of my friends had doodles, and their comments and recommendations about the breed sold me. It didn't hurt that doodles don't shed after having 3 German Shepards.
Q: What breed is Bentley? What is your favorite thing about the breed?
A: Bentley is a Goldendoodle. In addition to friends recommending doodles, I read everything I could get my hands on. The breeder also shared information about his parents, their temperaments, their size, and it seemed like the perfect fit. What I love most about his breed is that he always wants to be in my lap!
Q: What is Bentley's favorite thing to do?
A: Bentley's favorite thing to do is sit in the recliner with his sister, Lilly, a calico cat, eat a few cashews with his dad after dinner and run & play his heart out at Barks & Rec! He knows the days of the week and is always ready, at the back door, on the days he goes to Barks & Rec.
Q: Is there a silly or funny story about Bentley that you would like to share?
A: When Bentley was in training class, there were 4 other dogs (and owners) per class. When we were given the instruction by the trainer to individually call our dogs to "come"- Bentley would go to every other owner in class, after he came to me, because he knew they gave out treats! It was hilarious! Some of the other owners didn't think this was too funny as their dogs still hadn't come to them, He was the class-clown, and customers in the store who would watch the training sessions would clap and laugh as he preformed. But, at home if I said "Come, Bentley"- he wouldn't move and he's give me this look as if to say "are you talking to me, lady?"