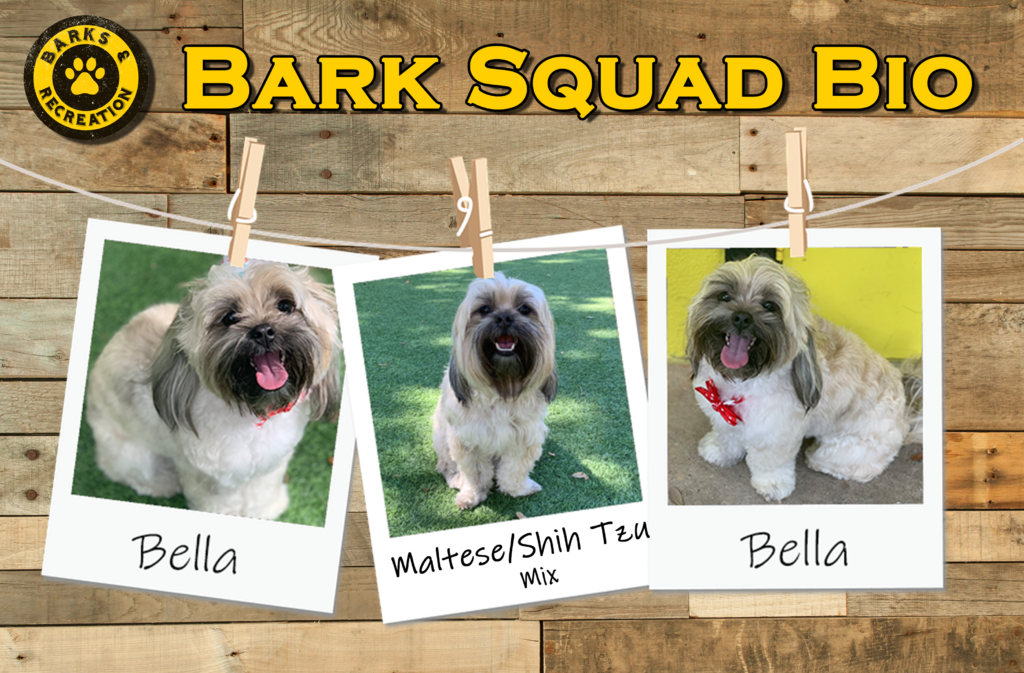 Get To Know Our Bark Squad Pups!
Meet Bella! Maltese/Shih-Tzu mix
Our next Bark Squad member is Bella!
Bella is an adorable Malshi (Maltese/Shih-Tzu mix) who loves, loves, loves to run and be chased by other dogs! She's been coming to Barks & Rec for daycare and grooming for quite some time now, we really love her like family! All the other dogs love when she comes in because she's care-free and will play with whoever, whenever! We're so happy to have her during Daycare here at Barks & Rec! She is the perfect addition to our Bark Squad! Thank you, Bella's family, for choosing us!
Q: Tell us Bella's story! Where was she born and what made you fall in love with her?
A: Bella was born in the Palm Coast. She had a couple siblings and lived with one other dog breed (Australian Shepherds). We were always cat people, but one day as we were walking in the park we spotted a tiny puppy and instantly fell in love. We asked what breed she was and instantly began searching. We soon found Bella and I knew she was the one! She was cuddly, sweet, and perfect all around.
Q: What breed is Bella? What is your favorite thing about the breed?
A: Bella is a Malshi, a Maltese/Shih-Tzu mix. When researching the breed I found out they were playful, stubborn, and love company. My favorite thing about the breed is how playful they are and how Bella always has energy to run.
Q: What is Bella's favorite thing to do?
A: Bella's favorite things to do is go on walks! As soon as we want to take her, we say "Do you wanna go for a walk?". She goes absolutely bonkers and gets really excited!
Q: Is there a silly or funny story about Bella that you would like to share?
A: When we started training Bella we started with "sit", and soon went on to "lay", "paw", "high ten", and "roll". She can do all of these very well! But, if you pull out a treat, she will try to do all these tricks at once! Roll, Sit, Paw, Lay, she will try her hardest to get the treat!