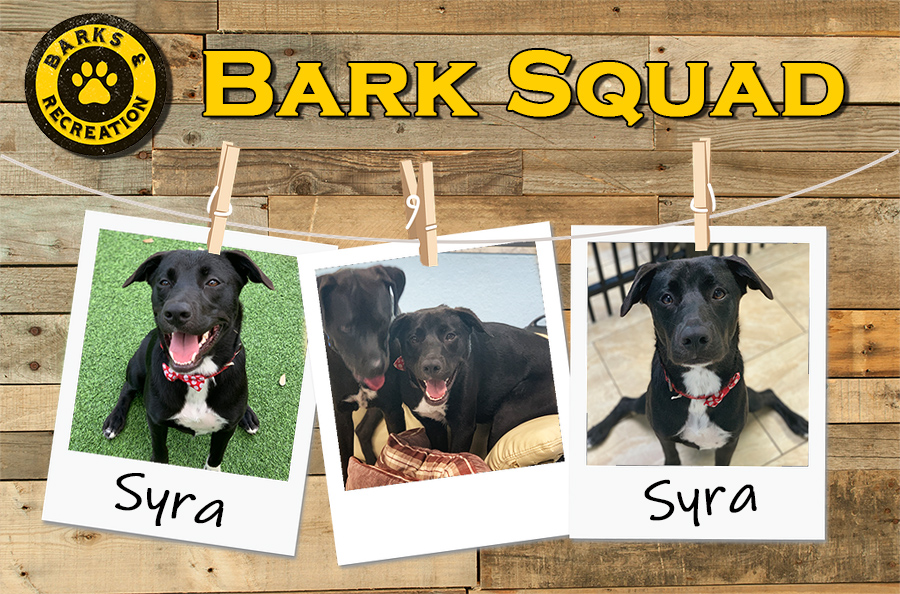 Get To Know Our Bark Squad Pups!
Meet Syra! Lab/Border Collie Mix
Our next Bark Squad member is Syra!
Syra is a Lab/Border Collie mix that always wants to play! She is very outgoing, energetic, and sometimes a little bit mischievous! Her favorite things to do are wrestle the other dogs and pull blankets out from underneath them. She has many friends here and we're happy to have her as a member of our Bark Squad!
Thank you, Syra's parents, for bringing her to Barks and Recreation! She's a great fit!
Q: Tell us Syra's story! Where was she born and what made you fall in love with her?
A: Syra was born in Georgia on May 20th 2018. We fell in love with her because of her big, beautiful, brown eyes and her mis-matched socks! She has 3 siblings who were adopted by co-workers at Friends of Strays, 2 brothers and 1 sister.
Q: What breed is Syra? What is your favorite thing about the breed?
A: Syra is a Lab/Border Collie mix according to Friends of Strays. We love the Lab gentleness and the Border Collie intelligence. We think she might have some Beagle in her too based on her voice and propensity to howl!
Q: What is Syra's favorite thing to do?
A: Syra loves to chew on glasses when we leave the room!
She also loves to going to Barks & Rec and according to the counselors she plays A LOT; and plays hard! At close to 1 year old, we have gotten her to swim, boat, and of course get mommy and daddy to exercise by going on long walks!
Q: Is there a silly or funny story about Syra that you would like to share?
A: Like any puppy, Syra is active and loves to be chased. She grabs things (especially eye glasses) and runs behind the table for us to surround her and/or chase her! Many pairs of reading glasses have teeth marks across the lenses because of this!