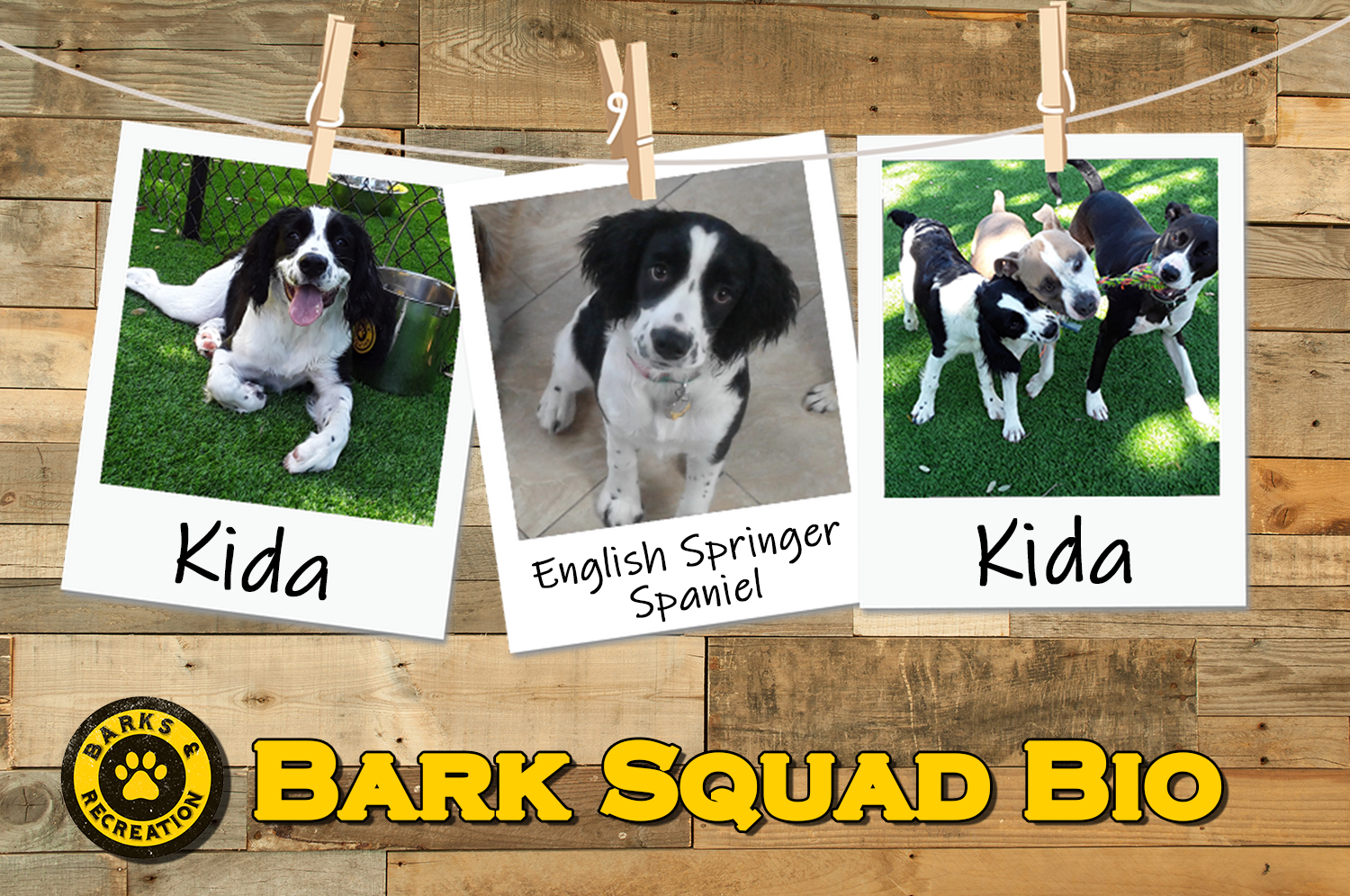 Get To Know Our Bark Squad Pups!
Meet Kida! English Springer Spaniel
Our next Bark Squad Bio is on Kida! Kida is a 9 month old English Springer Spaniel who is full of energy and excitement for life! She has been a regular member of the Bark Squad since April and during that time has grown before our eyes. She is great with both big and small dogs and loves to run around the play yard non stop. She also loves water and can often be found lounging in one of our doggy pools in the afternoon.  Thank you so much to Kida's parents for taking the time to answer our questions! Remember, if you would like to have your pup featured on our blog just stop into the shop and ask! It's that easy!
Q: Tell us Kida's story! Where was she born and what made you fall in love with her?
A: Kida was born in South Carolina. We looked through the entire state of FL for her and finally found a breeder that had one female left after the potential buyers fell through and happened to be driving to Jacksonville to see her mother the next morning. It was fate! We picked her up the next day at 9 AM, she was 8 pounds and made piggy snorting sounds the whole way home. It was love at first sight.
Kida At Play @ Barks and Recreation
Q: What breed is Kida? Did you learn about the breed prior to adopting? What do you love most about her breed?
Kida is an English Springer Spaniel. My boyfriend had 4 Springers in his lifetime and was persistent about getting another one, specifically a female. He always told me how smart and emotional they were and how they were 'like people'. I figured every dog owner thinks there dog is 'like a person' but I was so wrong. Kida truly is the life of the party anywhere she is. I love that she is so affectionate, unbelievably smart and playful.
Q: What's Kida's favorite thing to do?
A: Kida's favorite thing to do is Barks and Rec and swimming. She literally tried to jump out of my car window when we pulled into Bark's and Rec after not being there for a week. If someone that knows Kida stops by my house after she's been at Barks they'll say "she went to daycare today didn't she?". She plays so hard! We also can't keep her out of the pool, a love of water that started at Bark's and Rec in their baby pools.
Q: Is Kida in training? What tricks does she know?
A: Kida went through 2 levels of training at Pet Smart but currently is not in training. She picks up tricks pretty easily and right now knows sit, stay, spin, lay down, speak, high five, shake, up or stand, go get your ball and just recently she learned how to push the screen door open to let herself out of the lanai.
Q: Is there a silly or funny story about Kida you would like to share?
A: Before Kida lost her baby teeth she used to bite so much that we started wearing oven mitts in the house and nicknamed her "Al-Kida" the terrorist. We call her a lifeguard because if anyone jumps in the pool rather than use the steps she will swim out, take your hand and pull you to the end of the pool with her mouth. It's like she's trying to rescue you!