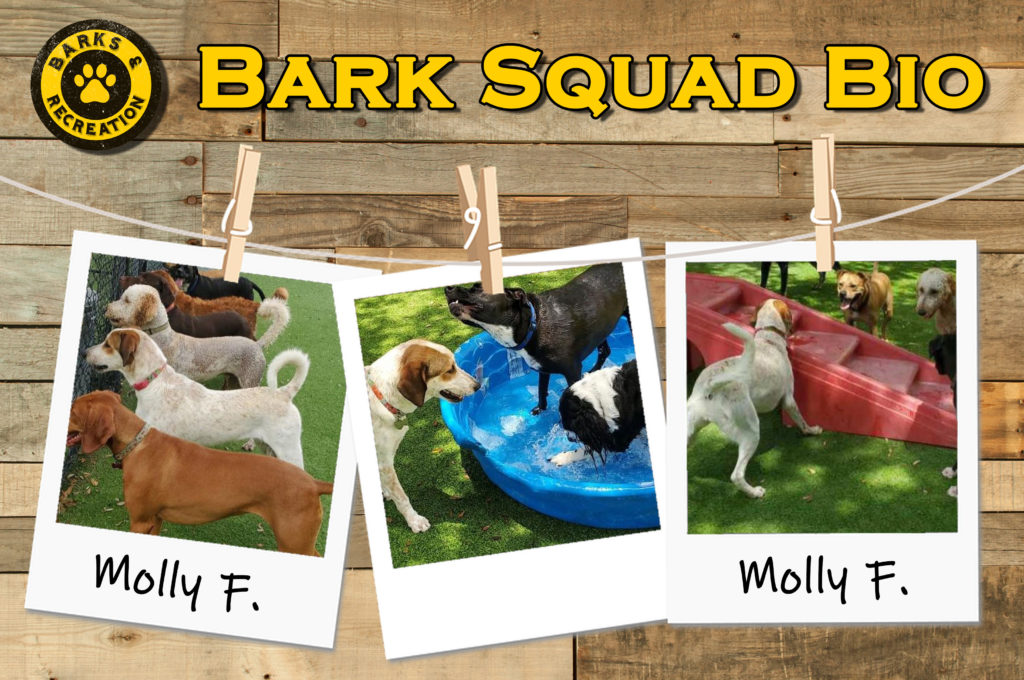 Get To Know Our Bark Squad Pups!
Meet Molly F.- Pyrenees/ Hound Mix

Introducing our next Bark Squad member: Molly!
Molly is a Hound/ Pyrenees mix that has been coming to our daycare for about 6 months! She's grown into such a big player and  absolutely loves playing with her doggy friends she's made here at Barks. We're so glad she's a part of our Bark Squad, she's not only here often, she's part of the Family!
We asked Molly's parents to answer some of our questions about her that everyone can read below. We're so glad to learn more about this playful pup and very thankful that her parents continue to choose us to look after her. We hope to have Molly around for many many years to come!
Q: Tell us Molly's story! Where was she born and what made you fall in love with her?
A: She was born in the struts of Alabama. Her entire litter did not survive- but Molly was a FIGHTER! Her and her mom were flown here by Pilots for Paws and nursed back to health. We met her when she was with her foster mom and decided to add her to the pack!
Q: What breed is Molly? What is your favorite thing about the breed?
A: She's a Pyrenees mix, but is clearly HOUND, which we didn't know when we adopted her!
Q: What is Molly's favorite thing to do?
A: She loves to swim in our pool, and she chases her tail when she's swimming! She will slide into the pool and just swim in circles for ages! She also loves to play with her big sister Annie is who is also a rescue from the same foster home. Annie is a Great Dane/ Pyrenees mix and they totally look like they're related!
Q: Is there a silly or funny story about Molly that you would like to share?
A: I have the FUNNIEST video of her trying to get over the gate at our stairs- she got stuck and her hind legs were dangling as she looked at me like "Help me Mom!" I just laughed and kept videoing her!