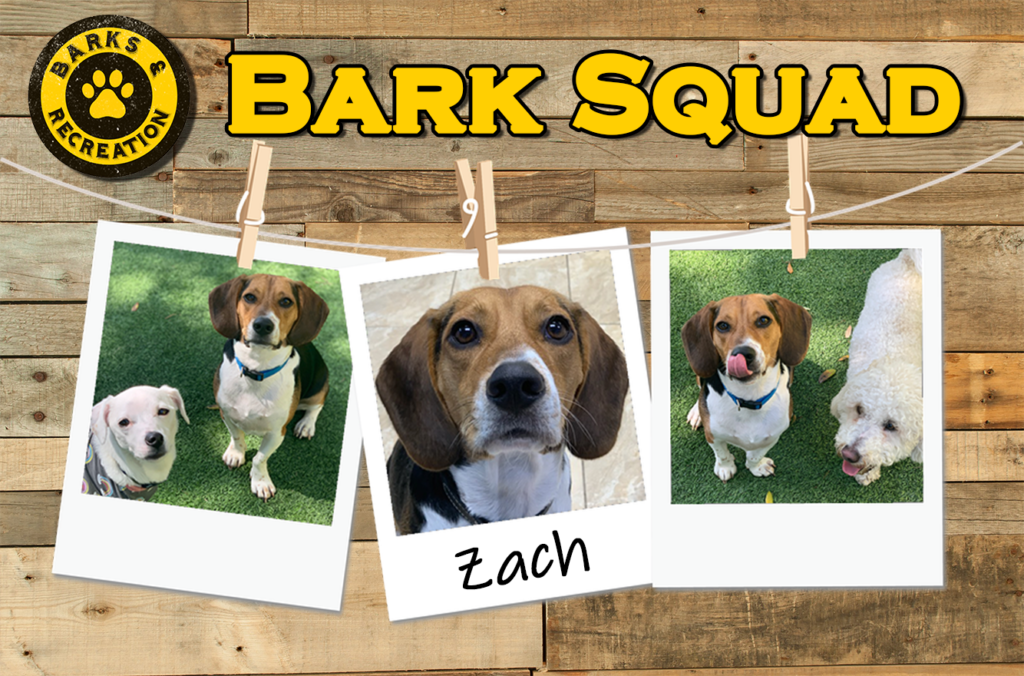 Get To Know Our Bark Squad Pups!
Meet Zach! Beagle

Our next Bark Squad member is Zach!
Zach is a beagle that comes regularly to Barks and Rec for daycare! He is a rambunctious, funny boy who constantly wants to play with all his doggy friends. We love having Zach around because we know we're in for an amusing treat as soon as he comes thorugh the door! He is a great addition to the pack and keeps the fun going!
We asked Zach's parents a few questions about him so we could all get to know him more!
Our staff at Barks would also like to thank Zach's parents for choosing us to watch over him — Thank you!
Q: Tell us Zach's story! Where was he born and what made you fall in love with him?
A: Zach was born in Alabama – he was my husband's pick. Zach looked so sad when we first saw him. He was older than the other pups and didn't want to interact with us – just watched over his shoulder in the activity room. We wanted to cheer him up so we took him home!
Q: What breed is Zach? What is your favorite thing about the breed?
A: Zach is a Beagle. He is our 4th Beagle pup! Our first one was a 9 month old rescue – we didn't know much about beagles but we fell in love with him and then the breed anyway!
Q: What is Zach's favorite thing to do?
A: Zach loves his giant tennis ball. He will run the length of the dog park pushing the ball with his paws. When it gets stuck in a corner he'll stand on it and push it out with his nose!
Q: Is there a silly or funny story about Zach that you would like to share?
A: When Zach was not even a year old – he was kicked out of Daycare (not this one) because he was too rough with the big dogs. Another time a giant blood-hound he was playing with at the dog park spent the whole day licking Zach head-to-toe. Zach sat there and would go back and forth between playing and washing.