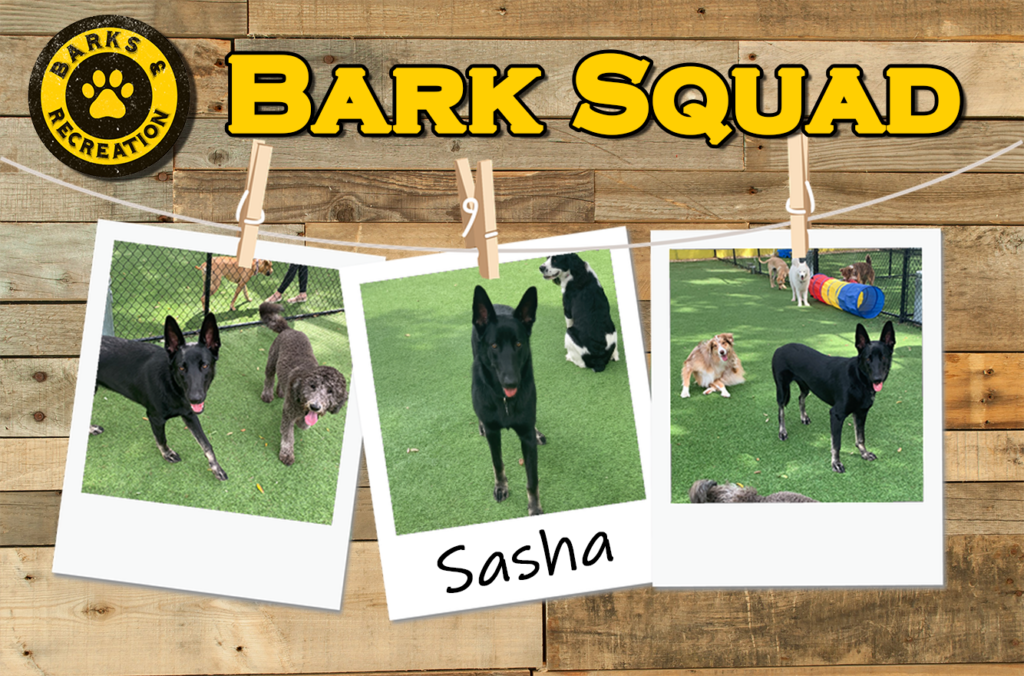 Get To Know Our Bark Squad Pups!
Meet Sasha! German Shepherd

Introducing our next Bark Squad member: Sasha!
Sasha is a mostly black German Shepherd that has been coming to our daycare since she was a tiny puppy! She's grown so big and so fast since then and absolutely loves playing with her doggy friends she's made here at Barks. We're so glad she's finally become a part of our Bark Squad, she's not only here often, she's part of the Family!
We asked Sasha's parents to answer some of our questions about her that everyone can read below. We're so glad to learn more about this goofy pup and very thankful that her parents continue to choose us to look after her. We hope to have Sasha around for many many years to come!
Q: Tell us Sasha's story! Where was she born and what made you fall in love with her?
A: Gabe, our German Shepherd of 10 years, passed away on June 29th last year. My two sons presented Sasha, 8 weeks old, to me the very next morning! She came to us from a breeder in Clearwater. Sasha started out pure black, just like Gabe, but over time she developed grey color up her legs for distinction.
Q: What breed is Sasha? What is your favorite thing about the breed?
A: Sasha is a German Shepherd. German Shepherds are the best companions with a lot of personality and intelligence – they are like a gentle, caring person inside a dog's body!
Q: What is Sasha's favorite thing to do?
A: Sasha is very gentle and sociable. She is good with all dogs and is great with people, both adults and children alike.
Q: Is there a silly or funny story about Sasha that you would like to share?
A: The first time we took Sasha to the little dog park at 4 months of age, she already exceeded the weight limit! She was so shy she hid behind the garbage can for 20 minutes from all the other smaller dogs. She has come a long way and now she's very sociable and gets along with dogs of all sizes!