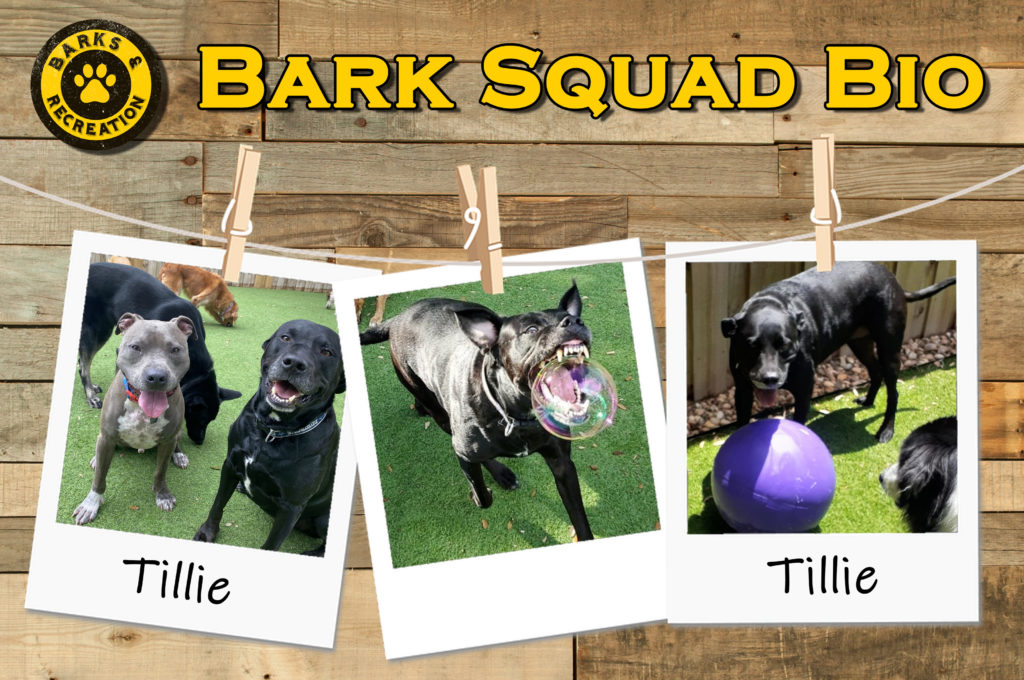 Get To Know Our Bark Squad Pups!
Meet Tillie! Lab/ Pitbull Mix

Introducing our next Bark Squad member: Tillie!
Tillie is a Lab/ Pitbull mix who has been coming to Barks & Rec for just about two years. She is such a funny girl, who absolutely loves her belly rubs! We're always happy to see Tillie because she is such a super silly and sweet girl! We are thrilled to have Tillie as a part of our bark squad. She is here with us a few times a month and is another part of our family here!
We asked Tillie's parents to answer some of our questions about her that everyone can read below. We're so glad to learn more about this sweet girl and very thankful that her parents continue to choose us to look after her. We hope to have Tillie around for many more years to come!
Q: Tell us Tillie's story! Where was she born and what made you fall in love with her?
A:$50 "craigslist" rescue! She was one of 8 pups- they all looked alike except her. She had a white goatee.

Q: What breed is Tillie? What is your favorite thing about the breed?
A: Tillie is a Lab/Pitbull mix. We love that she is goofy, loving, loyal, protective, loves everyone and all animals!
Q: What is Tillie's favorite thing to do?
A: Tillie loves to chase tennis balls!
Q: Is there a silly or funny story about Tillie that you would like to share?
A: She can fit THREE tennis balls in her mouth at once ( if one of them is kinda flat!)