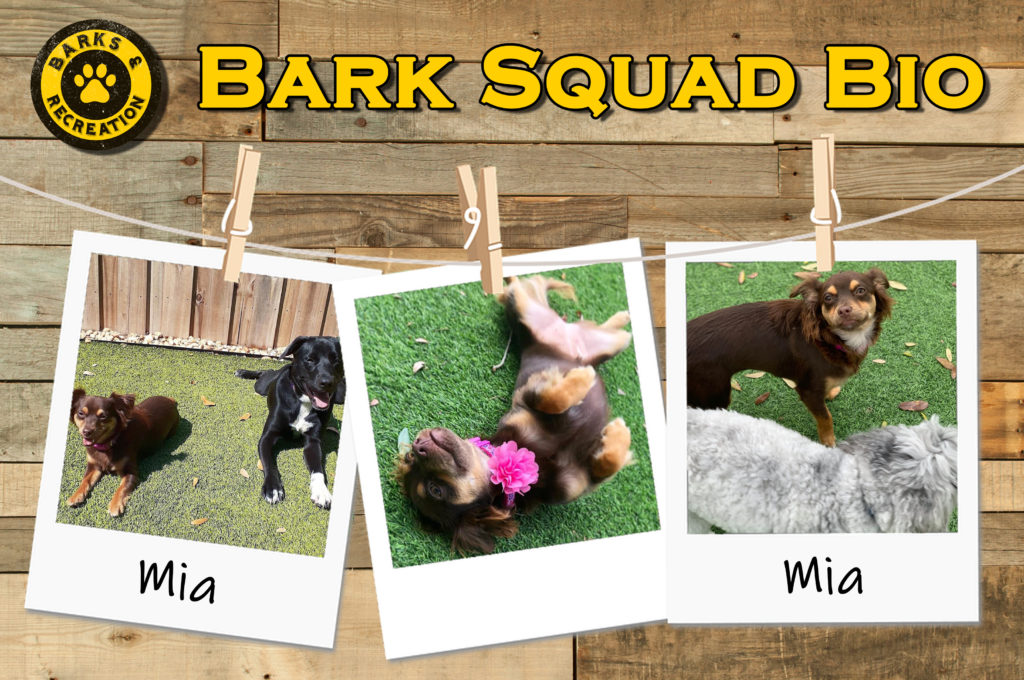 Get To Know Our Bark Squad Pups!
Meet Mia! Chihuahua/ Dachshund Mix

Introducing our next Bark Squad member: Mia!
Mia is a Chihuahua/ Dachshund mix that has been coming to our daycare for a year. She is another one of our total lovers with a sassy attitude! We always get so excited when Mia because she is a really silly and sweet! We are so excited to have Mia as a part of our bark squad. She is here with us a few times a week and is another part of our big furry family here!
We asked Mia's parents to answer some of our questions about her that everyone can read below. We're so glad to learn more about this sweet pup and very thankful that her parents continue to choose us to look after her. We hope to have Mia around for many more years to come!
Q: Tell us Mia's story! Where was she born and what made you fall in love with her?
A: Mia was a rescue from Highlands County SPCA. We fell in love with her from her picture through PetFinder. Then my heart melted when I drove there to meet her. She was only 2 months old!
Q: What breed is Mia? What is your favorite thing about the breed?
A: Mia is a Chihuahua/ Dachshund mix, and we only wanted a small dog. She is playful, cuddly, and easy to train!
Q: What is Mia's favorite thing to do?
A: Wrestle with Daddy, and cuddle with Mommy, Kissing Dad all over his face and playing chase!
Q: Is there a silly or funny story about Mia that you would like to share?
A: Sometimes her growling sounds more like she is talking words. She also hops through the grass when chasing lizards like a bunny! She likes to flip the pillows on the couch and bed too!