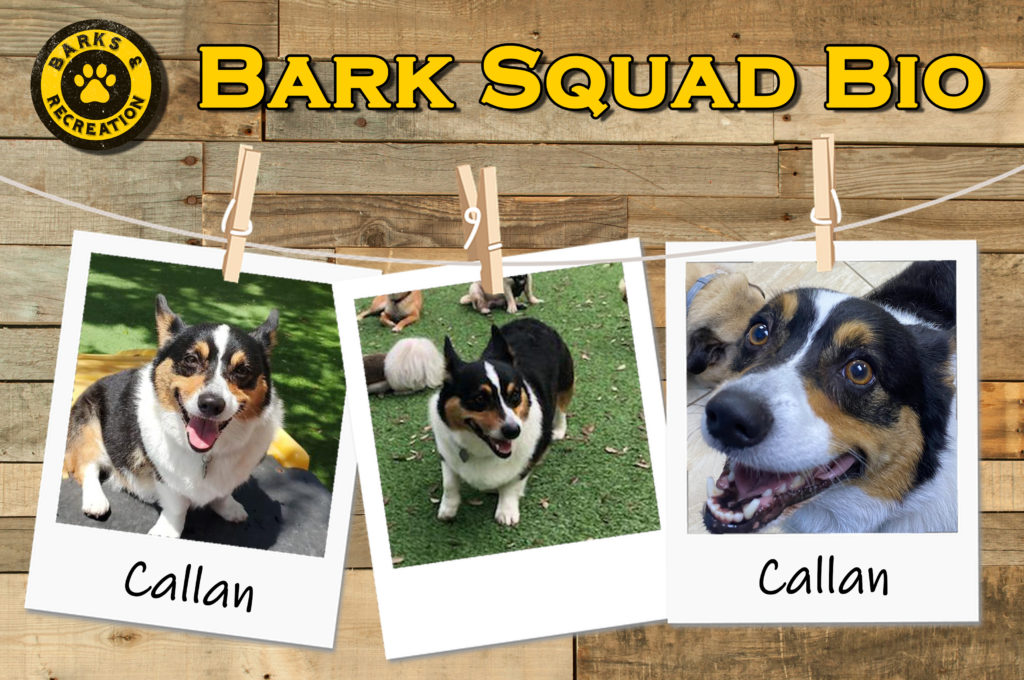 Get To Know Our Bark Squad Pups!
Meet Callan! Pembroke Welsh Corgi

Introducing our next Bark Squad member: Callan!
Callan is a Pembroke Welsh Corgi that has been coming to our daycare for almost two years! He is a quiet boy but can get totally amped up with a good ball! We are always so happy to see Callan because he is such a good boy! We are thrilled to have Callan as a part of our bark squad, He is here with us a few days a week and is a big part of our family here!
We asked Callan's parents to answer some of our questions about him that everyone can read below. We're so glad to learn more about this sweet pup and very thankful that his parents continue to choose us to look after him. We hope to have Callan around for many more years to come!
Q: Tell us Callan's story! Where was he born and what made you fall in love with him?
A: Callan was born in Lecanto, Florida and bred by Lee English who is known as "The Corgi Lady".
Q: What breed is Callan? What is your favorite thing about the breed?
A: Callan is a Pembroke Welsh Corgi. The Pembroke Welsh Corgi has a unique personality and lots of energy, which is why Callan is my seventh Corgi!
Q: What is Callan's favorite thing to do?
A: Undoubtedly, Callan lives for retrieving the ball.
Q: Is there a silly or funny story about Callan that you would like to share?
A: The best story is about Corgi's is the lore of the fairy saddle. I've attached a copy of it below.
The Fairy Saddle Legend
Long, long ago in days of yore,
It might've been sooner, if not before,
Along a mountain track there came,
A gallant Corgi of quite some fame.
And there beside the track he spied
A maiden fair, who to him cried,
Oh kindly Corgi, hear my plea;
I've fallen off my horse you see.
And so before you further roam
Would you, please sir, take me home?
So said the Corgi, I do confess;
How could I leave you in distress?
So climb upon my back fair maid
I'll take you home, as you have bade.
And so the Corgi started forth;
My home's a castle to the north.
They journeyed there, and at her door
She cried, I should have said before,
I'm a fairy princess sir, you see,
And for your kindness to me,
I'll leave upon your back
All traces of the fairy tack.
And till this day you still can find
The fairy's saddle to remind,
How the Corgi helped the princess fair,
And just as well for You will care.
This poem was written by
Mel Hotz of Fairysaddle Corgis, Cape Town